How to carefully remove snow from your fence and deck?
Extreme weather conditions like snow and cold can cause damage to your home as well as the surrounding fence. It is important to get your fence winter-ready. Do you know what are you supposed to do when snow accumulates on your fence and deck?
It is best to remove them. Although at times, improper removal may lead to the deck being damaged and you will have to be all the more careful if it is a wooden deck. The fence and the deck can even collapse due to excess weight of the snow. If such is the case, simply opt for fence repair and installation services and stay assured.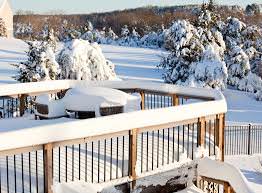 It is always important to inspect your deck in case of damage and waterproofing to safeguard it for chilling snow and extreme winter hail storms. Depending on the kind of deck you have, you can give it a try to handle the snow yourself.
Here are a few tips on handling the snow on your deck and fence :
Use a Plastic or Rubber Shovel – Do not use a metal shovel. Needless to say, plastic shovels are much more lighter and easier to use. Also, metal shovels can cause scratches on the deck unlike the plastic ones.
Use Broom for Light Snow – If the snow is light and fluffy, you can simply use a broom rather than using a shovel.
Push Snow Rather Than Lifting – It is always advisable to push snow and not lift it. You may strain your back if you try to lift it altogether.
Proper care and maintenance would keep your fence and deck last for years.
Be it wrought iron fence, wooden fence or patio covers; rest assured as Colleyville Roofing Pro is an expert in installation and repairing of these fences.